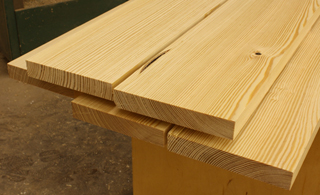 Naturally Beautiful
Left natural or stained, Southern Yellow Pine's wood grain pattern and golden color provides visual interest and a high quality look. That's what makes pressure treated Southern Yellow Pine a great option for decking and other construction projects
Incredibly Strong and Dense
Industry experts say Southern Yellow Pine's density makes it the strongest softwood structural lumber species. That strength means it's got ideal load-bearing capacity and fastener-holding ability.
Broad Availability
Southern Yellow Pine is plentifully grown across the southern United States, making access and availability to this superior product widespread. Southern Yellow Pine thrives in the red clay soil of the South. Because it's grown in the US you can feel good about supporting an American product that's more environmentally friendly and better for local economies.
Competitive Price
Southern Yellow Pine is available in abundance which means it's competitively priced. When used in some building projects, Southern Yellow Pine's incredible strength allows builders to accomplish more with less wood. The strength of Southern Yellow Pine means it's a great value in timber.
Usability
Southern Yellow Pine is used for flooring, wall cladding, decking, furniture making, external gates and all types of interior works.